Printing Material
TORELIEF®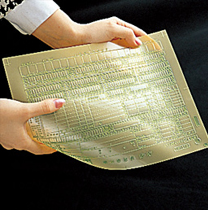 Torelief is printing plate which easy to process and easy to wash.
Torelief's outstanding image reproduction keeps the print quality constant.
The matte surface of Torelief ensures good contact between the plate surface and negative film.
All TORELIEF Plate are made from environmentally friendly materials and no need chemical substance in their manufacture.
TORELIEF becomes a durable printing plate due to made from abration resistant polyberries.
Toray Waterless Plate®
Toray Waterless Plate is latest innovation in printing technology.
Without requiring a parallel process for printing images. This process, will reduce the negative impact on the environment, also offers many other advantages without the need for a special printing machine.
Better print quality can be achieved on all types of paper and diffuse material such as plastics and metals.