CORPORATE PROFILE

OUTLINE
Established in 1970, CENTEX is an integrated textile mill for T/C, CVC, dobby and oxford fabrics, producing shirt cloth including the spinning, weaving and dyeing/finishing processes. Since the 1980's, CENTEX has worked hard to diversity to global export markets. Driven by the skills of its well-trained technicians, CENTEX products satisfy international quality standards and have won the long-term support of many loyal customers.
Current production capacity is 2.5 million yards per month: 60% plain weave and 40% dobby weave fabric. The company's main focus is exports for dress shirts and uniforms all over the world, especially the US, Japan, and the UK.
Always pursuing further innovation, CENTEX is now looking to make the most of significant changes in the market environment. The details of the company's initiatives for innovation are as follows.
Initiative
Details (Change from existing business)
Develop new sales flow and new customers
Existing: Mainly sales to wholesalers apparel → Starting direct sales to retail outlets such as super markets
Develop new applications
Existing: Mainly men's dress shirts →
Starting lady's blouses, hospital uniforms
Develop new value-added materials
Existing: Mainly regular items →
Starting functional items, e.g., UV-Cut, Stretch, Quick-Dry
Shift from "product-out" to "market-driven" mindset
Existing: Internally driven fabric development →Starting fabric development to meet market demands
Research and merchandize products made from biomass fiber
Researching possibility of PLA fibers for men's and ladies' shirts
Certificate ISO 9001:2015 No. ID03/00045 from SGS about Quality Management System
Certificate ISO 140001:2015 No. ID04/63044 from SGS about Environment Management System
ISO 45001:2018 Certificate No. ID19/05027 from SGS about Occupational Health and Safety Management System.
Oeko-Tex Standard 100, No. JKWO/047767 Certification of test results for Product Safety from TESTEX Zurich.
RCS (Recycle Claim Standard) Certification of traceability standards for tracking recycled raw materials through the supply chain.
Products and Service:
- TC and CVC Plain Fabrics
- TC and CVC Dobby Fabrics
- Oxford Fabrics
Factory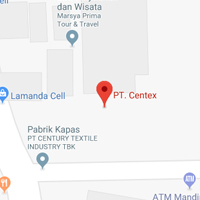 Address : Jl. Raya Bogor KM. 27 Rt.005 Rw.003 Ciracas Ciracas, Jakarta Timur, DKI Jakarta 13740
Tel : +62 21 871-0724
Fax : +62 21 871-1401