Career in Toray Indonesia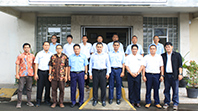 In Toray, we strive in providing an environment where employees find value in their work and building positive energetic relationships between people and the organisation. We obtain and develop talents based on the principle that employees are our most valuable resource, and maintains an energetic and enthusiastic workforce of people who find value in work, develops their abilities, and embrace and overcome challenges.
If you have the attributes of being innovative and motivated with the intention of having a career with us, we welcome you to join our team and share in our growth.