Medium-Term Management Program
Medium-Term Management Program
Project AP-G 2022
"Resilience and Proactive Management"
—Sustainable Growth and New Development
Under the Medium-Term Management Program, Project AP-G 2022 (AP-G 2022), a three-year business plan for fiscal 2020 to fiscal 2022, the Toray Group will maintain the basic strategy of business expansion through active investment. The Group will maximize the value it creates over the medium to long term by promoting structural reforms while also reinforcing its financial structure, which will facilitate its growth strategy. It will also build a resilient business foundation that will drive sustainable growth into the future. The aim is to achieve sound, sustainable growth as set out in the Long-Term Corporate Vision, TORAY VISION 2030.
Regarding the anticipated business environment over the coming years, major changes are expected due to aging populations, environmental issues, and technological innovation which create business opportunities. However, there is a risk that existing business areas will contract. For this reason, the Toray Group will strive to accurately grasp changes in industrial trends and to achieve sustainable growth by pursuing business model transformation.
Addressing these trends, AP-G 2022 calls for global expansion in growth business fields, strengthening competitiveness, and strengthening the management foundation as basic strategies. The Toray Group will continue to expand Green Innovation (GR) and Life Innovation (LI) businesses and strengthen competitiveness, while increasing awareness of the balance among profit, cash flow, and asset efficiency in business operations to ensure financial soundness. We will also work on business structure reform for low-growth and low-profitability businesses to formulate a new growth track.
The Toray Group will promote the Green Innovation Business Expansion Project (GR Project), the Life Innovation Business Expansion Project (LI Project), and the New Total Cost Reduction Project (NTC Project) as group-wide projects to ensure execution of these strategies.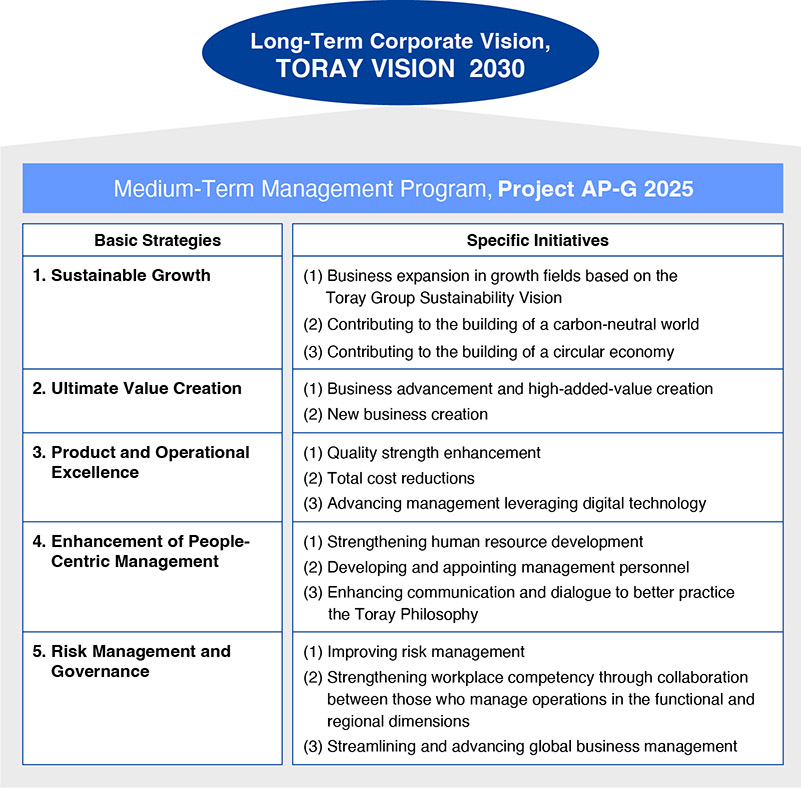 KPIs for Fiscal 2022
1. Financial KPIs
FY 2019 Actual
FY 2022 Target
(IFRS)
(J-GAAP)
(IFRS)
Net Sales / Revenue
2,214.6 billion yen
2,091.2 billion yen
2,600.0 billion yen
Operating Income /
Core Operating Income
131.2 billion yen
125.5 billion yen
180.0 billion yen
Operating Income to Net Sales /
Core Operating Income to Revenue
5.9%
6.0%
7%
ROA
4.8%
-
About 7%
ROE
5.0%
-
About 9%
Free Cash Flow (over 3 years)
-58.1 billion yen
-
120 billion yen or more
D/E ratio
0.86
0.89
Around 0.8
(guideline)
Dividend Payout Ratio
-
-
About 30%
Exchange rate for AP-G 2022 target: 105 yen / US$
ROA = Operating Income / Total Assets, Core Operating Income / Total Assets
ROE = Net Income Attributable to Owners of Parent, Profit Attributable to Owners of Parent / Owners' Equity
2. Sustainability KPIs
FY 2013 Actual
(baseline year)
(J-GAAP)
FY 2019 Actual
(compared to FY 2013)
(J-GAAP)
FY 2022 Target
(compared to FY 2013)
(IFRS)
Sales of Green Innovation (GR) products
463.1 billion yen
820.1 billion yen
1,000.0 billion yen
Sales of Life Innovation (LI) products
119.6 billion yen
223.2 billion yen
300.0 billion yen
Contribution to CO2 reduction in value chain
38.45 million tons
5.1-fold
5.3-fold
Water filtration throughput contribution of Toray's water treatment membranes
27.23 million tons
/day
1.9-fold
2.4-fold
Greenhouse gas emissions per unit of sales in production activities
337 tons
/100 million yen
12% reduction
20% reduction
Water usage per unit of sales in production activities
15,200 tons
/100 million yen
23% reduction
25% reduction