CORPORATE PROFILE
PROFILE
PT ACTEM was establish in 1973, to meet the local demands for spun yarn in Indonesia. During these thirty three years, along with the development of the Indonesia economy, PT ACTEM has greatly improved its capacity, technology and quality and has grown to be one of the biggest spun acrylic yarn exporters in Indonesia.
Over 75% of our product are exported to South East Asia, Middle & East Asia, Europe & Oceanic and other countries in cooperation with Government policy for the export promotion.
Today, ACTEM is known and given the good reputation for its admirable quality, reliable delivery and service in both domestic and overseas markets. Although we are not a trader but a manufacturer who pursues a good and long term relationship with the customer, we are aggressive enough to cultivate new market and customers. At the same time, we are conservative enough to keep stable, continuous and good relations with exiting customer and suppliers.
The company is confident of not only its quality but also its partnership, friendship and relationship. PT ACTEM surely deserves your best business partner of all.
Name Of Company
PT ACRYL TEXTILE MILLS (Abbreviated PT. ACTEM)
Share Holders
Toray Industries Inc. 100%
Safety Record %
( End of Dec 2011)
- No Rest Accident : 1.694.250 Hours = 1.509 Days
- Perfect Safety : 1.694.250 Hours = 1.509 Days
Location of Company
Factory:


Jl. Moh. Toha KM 1, Pasar Baru, Tangerang 15112




Tel : +62 21 551-5388 (GA)




+62 21 5576-7229/30 (Sales)




Fax: +62 21 5576-7755


Head Office:
3rd Fl. Summitmas II, 61-62, Jl. Jend.Sudirman, Jakarta 12190


Tel: +62 21 252-6841




Fax: +62 21520-2041

Company Establishment
27 April, 1973
Commercial Operation
18 May, 1975
Employee
+/- 201 persons

Product Equip & Capacity
Equipment
Capasity
Kind

Spinning
Dyeing
20.032 Spindles
335 Spindles
400 Tons/Month
300 Tons/Month
Acrylic High Bulky/Non Bulky, Acrylic Wool, Acrylic Nylon,Wool Blended Yarn

Product
Market
Dyed Spun Acrylic Yarn


| | |
| --- | --- |
| - Domestic | : 30% |
| - Export | : 70% |

(Jepang, China, Korea, Hongkong, South Africa, Malaysia, Australia, New Zealand, etc. )
Total Factory Area

| | |
| --- | --- |
| Land  | 66,850 M2 |
| Building  | 25,929.7 M2(37.3%) |

Waste Water Treatment :
Chemical & Biological Treatment ( Capacity : 180 tons/hour )
Physicochemical & Activated Sludge Process ) Located in PT ISTEM
Office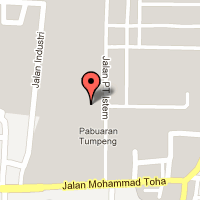 View Large Map